Laser Tag Rentals in Miami, FL
"We Rent Fun" Brings the Action to You
Miami, the shimmering gem of South Florida, is not just known for its pristine beaches, sizzling nightlife, and vibrant Cuban culture. Over the years, it has evolved to become a hotspot for an eclectic mix of entertainment choices. And when it comes to combining technology with good old-fashioned fun, there's no better choice than laser tag.Whether you're planning a corporate event, birthday party, or just looking to inject some adrenaline into your weekend, We Rent Fun's laser tag rentals in Miami offer a unique experience that's hard to beat.

In a city bursting with life and offering a plethora of entertainment options, We Rent Fun's laser tag rentals manage to carve a niche for themselves. For residents and visitors of Miami, this fusion of technology-driven amusement and the city's vibrant atmosphere offers an unparalleled experience.

Whether you're a local looking to spruce up your events or a tourist aiming to add a dash of adventure to your Miami vacation, We Rent Fun ensures you're in for a laser tag experience like no other. Dive into the action-packed world of laser tag and let Miami's charm amplify your fun quotient!
A New Wave of Fun: Laser Tag in Miami's Sun-Kissed Surroundings
Imagine the thrill of a high-octane laser tag game with the iconic backdrop of Miami's art deco skyline, or perhaps amidst the lush greenery of Coconut Grove. With We Rent Fun, you can bring the laser tag arena to any setting you like. Gone are the days when laser tag was restricted to dark, neon-lit indoor spaces. With the latest equipment from We Rent Fun, the city of Miami becomes your playground.
Making Miami's Magic Work For You

Being situated in South Florida, Miami boasts a tropical monsoon climate with a marked drier season in the winter. This means that most of the year provides ideal conditions for outdoor activities. What better way to exploit this than by renting state-of-the-art laser tag equipment for your outdoor event?
Take advantage of Miami's distinct neighborhoods:
South Beach: Combine beach fun with laser tag. Set up a battleground on the sandy shores for a unique laser tag experience.
Brickell: Perfect for corporate events, the business district can be turned into a futuristic laser battlefield after working hours.
Little Havana: Add a touch of Cuban flavor to your laser tag matches. The colorful streets make for an exciting playing field.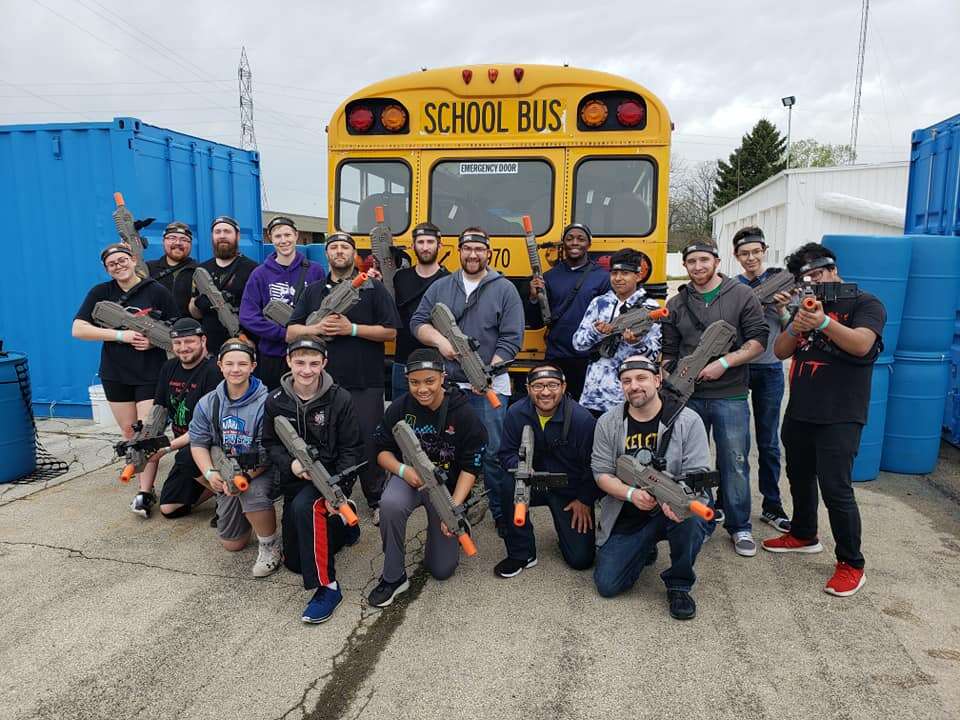 Make Laser Tag The Highlight of Your Event
Birthday Parties: Make your child's day special with a laser tag theme party. We Rent Fun provides all necessary equipment and can even help set up themed arenas.
Corporate Events: Boost team spirit and foster camaraderie amongst colleagues. Laser tag serves as the ideal team-building activity, blending fun with strategy and teamwork.
Bachelor/Bachelorette Parties: Before stepping into the next phase of life, unleash your inner child and indulge in some laser tag fun.
School/College Events: An excellent way for students to let off some steam, foster unity, and promote healthy competition.
Click To Book
Why Choose We Rent Fun for Laser Tag Rentals in Miami?
Top-of-the-Line Equipment: We Rent Fun ensures you get the best equipment that's not only safe but also employs the latest technology for a seamless experience.
Flexibility: Whether you want to rent for a few hours or an entire day, they offer flexible packages to suit your needs.
Affordability: Get the best value for your money. Competitive pricing ensures you get premium fun without burning a hole in your pocket.
Expert Assistance: Not sure how to set things up? The We Rent Fun team is always there to guide you, ensuring your event goes off without a hitch.