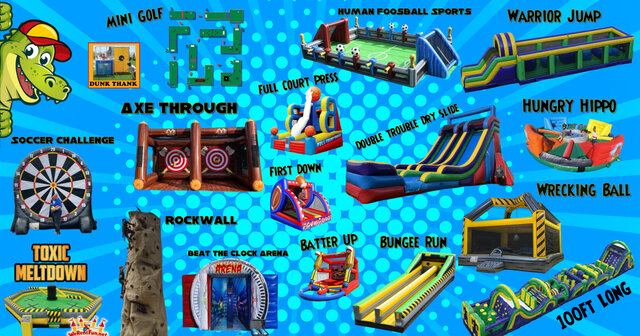 Ultra Package
Giant Soccer Challenge Goooooooaaaal!!! Give this a KICK!!!!! This interactive inflatable Soccer Challenge is the perfect inflatable for your party. Grab a friend and test your kicking abilities, this Soccer Game is more suited toward older kids and adults.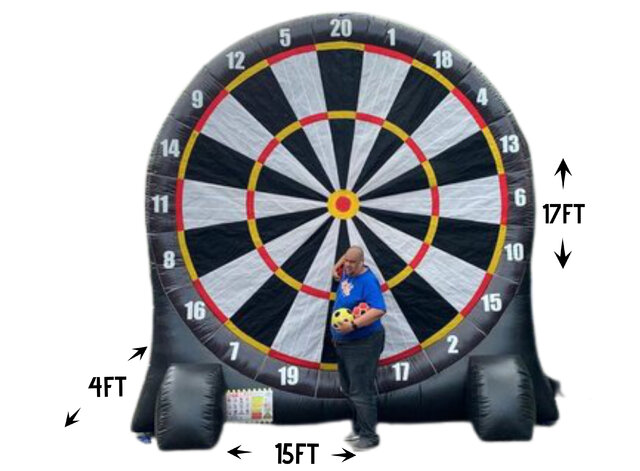 Make your party or event a memorable experience with our inflatable Foosball!
Prepare to play a traditional game of foosball football.. With a twist! Combine the fun of real life with soccer and foosball while you play our Human Foosball Game 5 a side! Replace the table with a big inflatable court and the small players with real ones! Players will wear harnesses tied to horizontal elastic bands on the court, allowing them to move back and forth just like the mini players on the original game! This inflatable is sure to entertain everybody and make everybody laugh and want to compete!
We understand that planning and organizing a party can be a challenge, so our teams are doing their best to make their time with you as easy and stress-free as possible! All inflatable games are set up in your preferred location, secured, disinfected, and inspected. You will receive personalized operator attendant training with a team member, leaving you well educated and ready for a safe day of fun.
We require an entrance to your space of at least 5 feet in width and a clear path leading up to your setup area which should be clean and free of debris.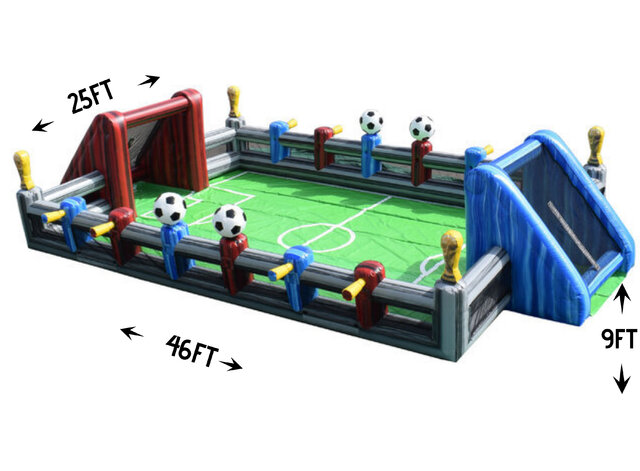 Dunk Tank

The most entertaining unit is a Dunk Tank, it will have your guests laughing all night long! Dunk your friend or just about anybody you like. Our dunk tanks are always a hit on hot summer days. Everybody gets pumped to go in. Dunk tanks come with 3 balls and a target where you have to throw the ball at a target to dunk the person into the water. Our dunk tanks have a large clear viewing window to see the person once they dunked in the water. This is a great family or event activity for everyone to enjoy while participating or just watching!
Our Dunk tanks are clean and sanitized (Guaranteed).
Big a clear viewing window in the front.
Easy to empty with a valve in the back
Takes about 30-55 minutes to fill.
Big commercial grade.
Comes with 3 Balls.
Remember, you need to provide the water.
We need 5' to 6' clearance to access the backyard.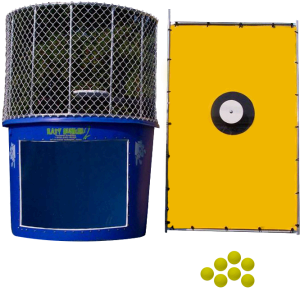 Toxic Meltdown Rental In Miami (4 Hours)
Toxic Meltdown is the hottest Rental in Miami. Up to 8 players can challenge their skills on the Inflatable Meltdown Rental. Each player has to jump, duck, and dodge the mechanical stick. If you get hit or touch this, you're out!! This same game has been on numerous TV shows and more. We Rent Fun loves to add this on for Company Parties or Picnics. School Events have kids and teenagers jump and dodge the log while staying in the game for over 10 minutes!! Be sure when planning your Church Festival or Carnival in Miami and surrounding areas to call early since we are the only one around who offers this Extreme Rental. There are Middle Schools, High Schools, and even Colleges trying to compete to be the champion and get the trophy!!

Please note: We Rent Fun will provide an attendant with each "Toxic Meltdown" rental who will be in control of the game. Your peace of mind is ensured knowing We Rent Fun is fully licensed and insured.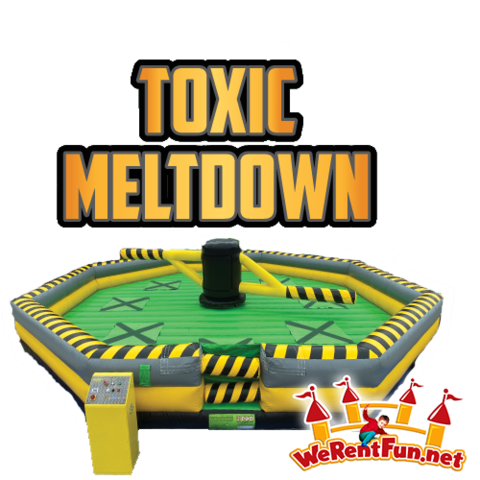 Rock Climbing Wall Rental Miami
Mobile Rock Wall features an auto-belay system, the safest for any event.
Holds up to 2 riders
. Minimum weight per rider 40 lbs. Maximum weight per rider 250 lbs.
Riders can race to the top. Our price includes 2 hours of Rock wall fun and 1 trained Attendant that will stay with the Rock Wall at all times and help your guest get into the climbing gear.

With museum-quality dinosaur fossils, features molded from real rock and hand-painted to perfection

Need Our Portable Rock Climbing Wall for more than 2 hours? Not a problem, each additional hour is 199. Includes 1 Attendant.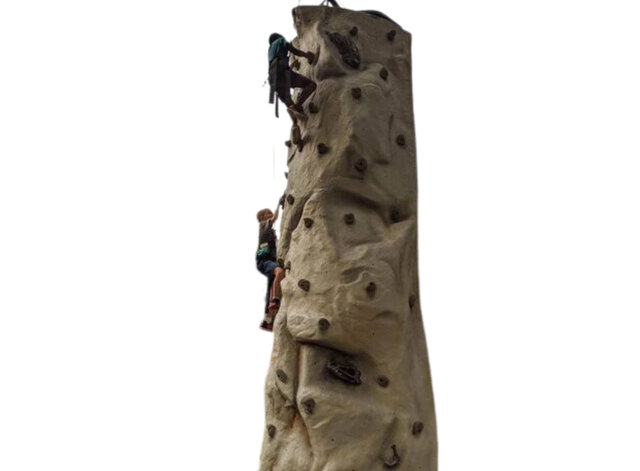 Portable LED Mini Golf Premium 9 Hole (Set)
This Interactive takes the LED Mini Golf to the next level. It features 9 holes of varying designs and levels of difficulty.
-Includes real miniature golf clubs and golf balls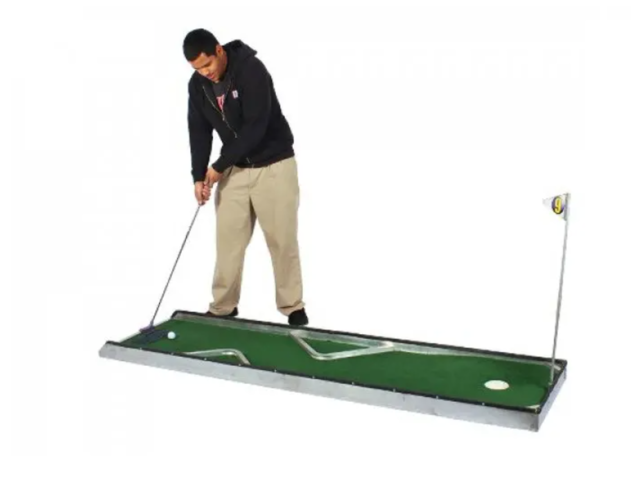 100Ft Radical Run Obstacle Course
Who's ready for the ultimate 100' Double Lane Radical Run Obstacle Course? Race through 100' feet of obstacles ending with a 16' slide at the end. This obstacle course is great for school field days, church events, company picnics, after proms, and more!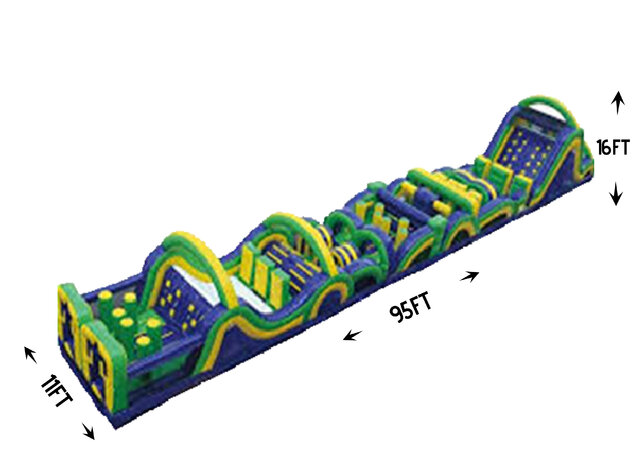 R36 - Warrior Jump
Look out for this Big Baller Interactive Inflatable Rental!! This is better than the Wipeout Obstacle Course. The first of its kind! We Rent Fun is proud to offer in the Miami party rental area, The WARRIOR JUMP! Test your warrior skills by jumping from bump to bump, but don't let it fool you, there is a surprise! Stand too long on a bump and it deflates!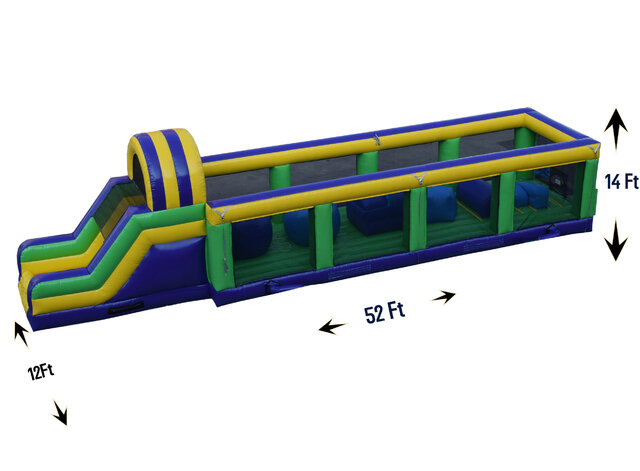 Hungry Hippo Inflatable Game
Play one of your favorite games in real life! This awesome inflatable allows you and three friends to compete in a life-size hungry hippos game! Compete against friends to gobble up as many of the balls as you can while attached to a bungee cord! Great for any event!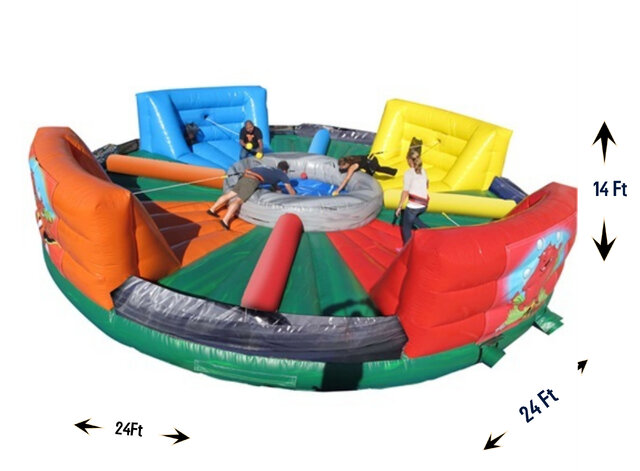 R55 Wrecking Ball
Are you ready for the Wrecking Ball? Our new 4 Player game is a must for Carnivals, School functions, Corporate Events, and more. Each player stands on their individual pedestal as they try to knock each other off their pedestals by swinging the wrecking ball hanging from the middle of the inflatable. Great Interactive game that helps engage friendly competition combined with exercise.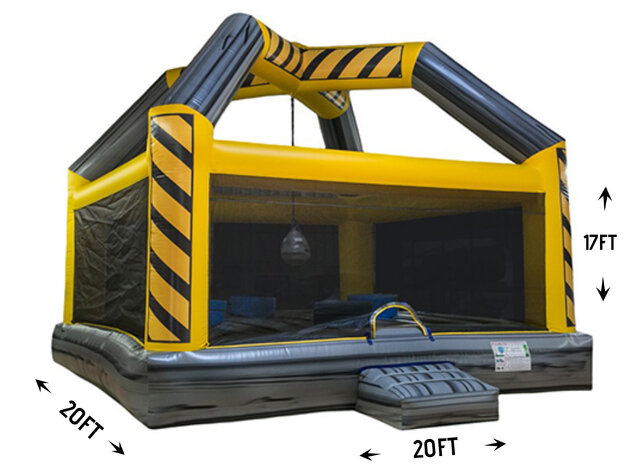 Extreme Bungee Run
This inflatable game is popular with kids and adults alike. Participants compete against one another on how far they can run before being pulled back. You can run, but you might not make it very far. Two contestants wear a harness while they are connected to the inflatable bungee run game with a bungee cord, much like a giant rubber band. The farther you go forward along the bungee run, the greater the spring backward. Colors may vary. This is a great challenging inflatable activity, order yours now!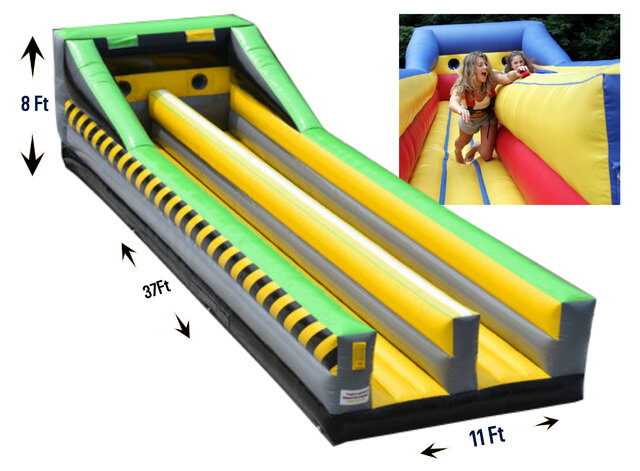 Beat the clock Interactive Arena
Great for competitive events, team bonding, corporate events, or carnivals. We Rent Fun Interactive light arena is for two players. Beat the clock and hit the buttons that light up, the player to hit the most lit up buttons wins. Insert the light console into the designated areas in the arena. This game-like arena can be set-up inside or outdoors.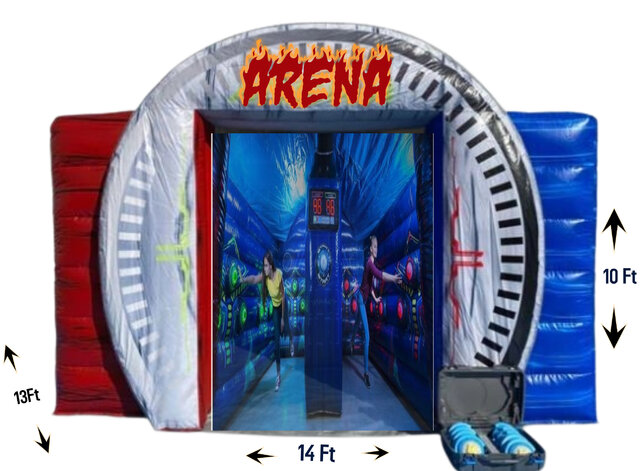 Double Axe Throw Inflatable Rental
Come one come all, We Rent Fun is the first to bring the Inflatable Axe Throw Rental to Miami and surrounding areas. This Axe Throwing Game Rentals offer two-player the chance to become the lumber jack champion. How to play: each player is given 3 Axe's to throw at the target to see who can hit the bulls eye. Do you have what it will take? Can you score the most points on this inflatable game rental.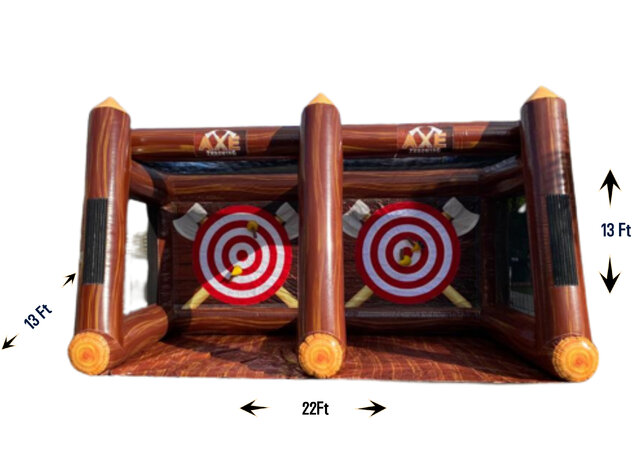 Full Court Press (Basketball Game)
The World's first true interactive basketball game! Players must score all their colored balls on the opponent's side within 30 seconds to win. The action heats up when you have to clear your opponent's balls, and can't shoot your owner. Truly like real NBA full court press action, this game is fast and frenzied, and lots of fun. Can be quickly converted to standard basketball shots for single-action play. Inflated hoops are durable and very effective.
Games include 2 Balls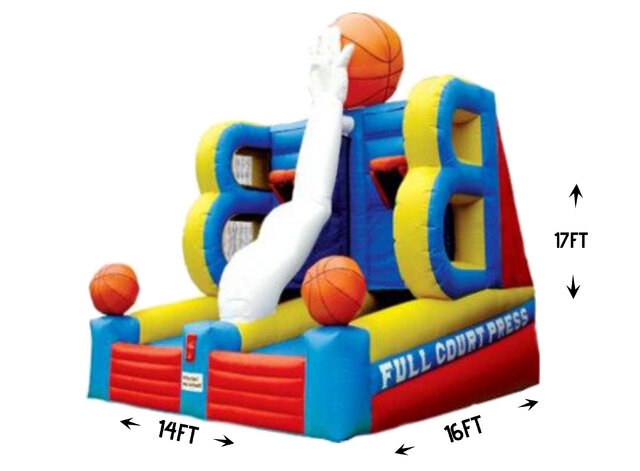 First Down (Football Game)
The First Down from Ninja Jump is an exciting inflatable game that lets players young and old show off their passing game. Future quarterbacks can face off with each other, as they throw the football across the field to the back wall that holds a line of receivers. Once the pass is completed, the football then is returned to the opposing quarterback's lane. The competitive spirit of this inflatable game really gets going as each player tries to get rid of all of their footballs. Each First Down inflatable game features linebacker and receiver artwork, along with a simulated football "field" and three-dimensional footballs at the top of the unit. The First Down inflatable game is a great way to promote exercise, healthy competition and sportsmanship, and is a fun addition to any birthday party or event for guests of any age. Games include 2 Balls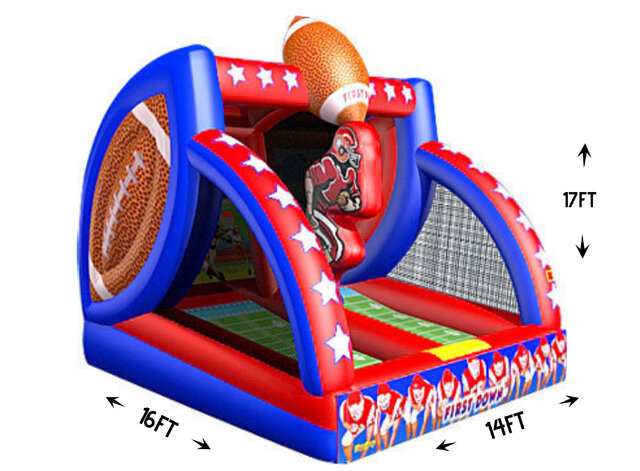 Batter Up (Baseball Game)
The Batter Up lets your guests feel like they are in the big leagues, with this original baseball-themed inflatable game. Players can step up to the plate and take part in batting practice as they hit baseballs into an enclosed "outfield." The back wall has strategic holes, with designated 10-point values for each hit, amid realistic artwork, complete with defensive outfielders trying to catch the ball. The Batter Up inflatable game offers plenty of three-dimensional details, with a baseball bat- and ball-flanked opening and versatility; players can bat either left- or right-handed.
The Batter Up inflatable game is a great way to promote exercise, healthy competition and sportsmanship, and is a great addition to any birthday party or event for guests of any age.