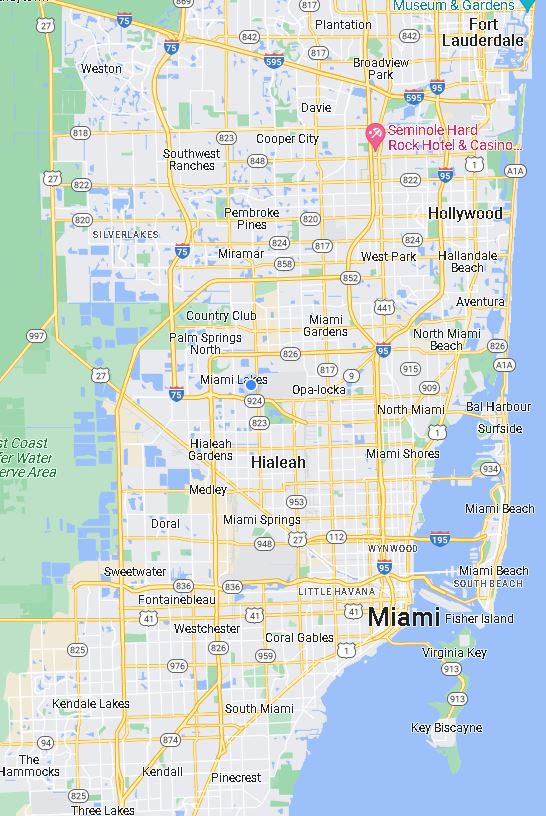 Location:
Our Service Area
Servicing: Miami, Pembroke, Pines, Coral Gables, Pinecrest Davie Palmetto Bay, Weston, Coconut Grove, Miami Lakes Hialeah, Miramar, and surrounding areas.
Miami Dade County Schools Approved Vendor
Fully Licensed and Insured
All Employees have a Level 2 Screening, Background check

If your event

is outside our

service area, just let us know! A

nd special accommodations can usually be made to suit your event needs.
NOTE: Extra fees may vary depending on how far you are outside our service area.
Service Area
Office Hours
Monda to Friday 8 AM to 5 PM
Stress-free online booking 24/7
Cancellation Policy:
If the customer needs to cancel or reschedule their event, written notice must be provided to Omega Events LLC DBA We Rent Fun, at least 14 days prior to the event (48 hours prior to the scheduled delivery time for cancellations due to inclement weather conditions). If timely written notice is provided (Only Email no text or chat), Omega Events LLC DBA We Rent Fun will transfer any payments made for a rescheduled event or hold them "rain check" (credit) that can be used within 1 year from the original date of your event. Rescheduled events are subject to availability. Non-weather-related cancellations with less than 14 days written notice is subject to a 33% cancellation fee. Non-weather-related cancellations with less than 72 hours' notice are subject to a 50% cancellation fee. Weather-related cancellations with less than 48 hours of the scheduled delivery time notice are subject to a 33% cancellation fee. Cancellations after set-up have begun are subject to a 100% cancellation fee.

All deposits and money paid prior and after event date are non-refundable. Should customer cancel prior to event date, a credit may be issued by Company for future use by customer, at the sole discretion of Company. COVID-19 cancellations (and variations and mutations of the same) are included in the standard Cancellation Policy
Weather Policy:
Omega Events LLC DBA We Rent Fun reserves the right to cancel or postpone any event based on the weather forecast for the scheduled event date. It is unsafe to operate equipment in the following conditions: sustained wind or wind gusts above 15 MPH, lightning, heavy rain, severe weather possibility, the threat of tropical storm or hurricane conditions. If conditions are deemed hazardous to participants and/or equipment, we will advise accordingly. If bad weather is possible but not cause for a safety concern, Omega Events LLC DBA We Rent Fun will give the customer the option of accepting the delivery, rescheduling, or canceling (subject to cancellation terms listed above). Should the customer choose to accept delivery, payment must be made in full regardless of use due to weather conditions, disruption of electrical service, or any other unfavorable conditions. No refunds will be issued.
Order Changes:
Changes to orders are subject to availability. Any items that are removed from the order after the order is confirmed that are not replaced with items of equal or lesser value are subject to a 33% cancellation fee. Changes to event start and end times or delivery and pickup windows with less than 48 hours notice are subject to a fee of 33% of the order, plus any corresponding rental fees. Changing the date of order with less than 14 days' notice is subject to a 33% fee.
Delivery & Pickup:
The lessee grants Omega Events LLC DBA We Rent Fun the right to enter the property for delivery, setup, and return pick-up of the rental equipment, and warrants that they are authorized to grant such permission. Customer agrees that if Omega Events LLC DBA We Rent Fun cannot gain access to the rented items upon attempting to pick up such as locked doors or fence gates, subdivision gates, cars blocking the way, etc. that Omega Events LLC DBA We Rent Fun may use any reasonable non-destructive means to bypass those obstacles. Customer hereby agrees to indemnify, defend, and hold Omega Events LLC DBA We Rent Fun harmless from any claims and costs arising from such retaking.
The We Rent Fun Family
Our Mission:
Provide fun experiences to families and groups of people with a level of respect and professionalism like they never have seen before.
Vision:
To become the name everyone thinks first for fun, happiness, and peace of mind in South Florida by 2025
Who we are?
First and foremost, we are a Christian based family owned and operated business. We Rent Fun is here to serve Birthday Parties, Weddings, Corporate Events, Reunions, Church Gatherings, Festivals, and School Events; you name the special event and we are here to rent it. We will make sure that our entire inventory is serviced and sanitized before it arrives at your event.

It is our mission to make sure you are highly satisfied and we not only meet your expectations but exceed them. We Rent Fun holds ourselves to a very high standard and you should not settle for anything less. We make sure to conduct ourselves with outstanding customer service and professionalism. We have high expectations for our growing business. It is very important to us to make the customer experience as personable as possible. Allow us to be your one-stop-shop for all your party rental needs. We look forward to serving you at your next event. We gladly serve the greater Miami Area and Surrounding Communities like Doral, Hialeah, Hialeah Garden, Fontainebleau, Miami Spring, Coral Gables, Miami Lakes, Westchester, Kendall Lakes, Kendal West, North Miami, Miami Lakes, Palm Springs, Opa-locka, Golden Glades, North Miami Beach, Miami Beach, Norland, Pinewood, Miami Shore

It is our mission to make available all the rentals you need in order for your event to go off without a hitch. Our promise to you is to provide exceptional customer service while staying competitive.