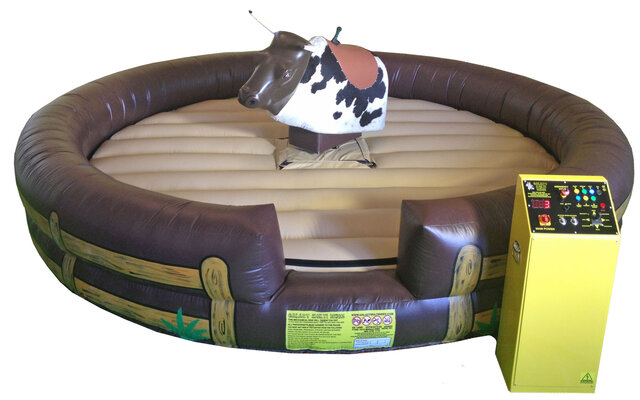 Mechanical Bull Rental Miami Video Inside






$799.00

Please email info@WeRentFun.Net to reserve this item.

Mechanical Bull Rental Miami
Mechanical Bull Rental Miami offers your guests a unique experience. Not many people have had the chance to ride a Bull in Miami, which is exactly what we rent out. Our Bull Riding Experience rental in Miami does come with some restrictions to keep everyone safe.
There is a max of 1 rider at a time.
Min. weight is 40lbs and max is 250lbs per rider. We hold the discretion on this, as we don't want anyone injured.
Price includes the Bull and attendant for 3 hours. However, we do offer additional hours. Each additional hour is $250. Includes 1 Attendant.
Requires 3 power outlets on separate circuits.
If power is NOT available, please let us know so
Generators for power can be added to your invoice.
Rent the Mechanical Bull for your party Today!
Have a great time on our Bull Riding that contains museum-quality Bull. For the best Bull Riding Experience experience. Challenge your guests to who can last the longest on the bull. Mechanical Bull Rental Miami will have your guests talking about your party for days and weeks to come.
What You Need To Know About Bull Riding Experience Parties
Bull Riding Experience is a really popular activity for parties. It's a fun activity that people are enthusiastic about, and you can get the party started with the right music, food, and drinks. There are many different types of Bull Riding Experience parties. The most common type is outdoors with our Mechanical Bull Rental Miami. This Bull is portable and comes to your venue for a day of fun. There are many reasons to rent a Mechanical bull in Miami. Most people don't have these sorts of things laying around to entertain guests, that's why we offer them for rent. Take a look at our vast selection of party rentals. We do offer Bull Riding Experience rental in Miami but we also offer other party rentals to suit our clients' needs. Have a small gathering in the backyard? We have table and chair rentals. This can be great for graduation parties or bridal showers. If you want to add something to your fundraiser, we suggest concessions! People love concessions and it is an affordable way to add more to your fundraiser and get more in return. Our Mechanical bull is designed to look like a natural Mechanical bull and is not a flat surface with some pegs. It is meant to be challenging but also offers fun for all ages. Many corporate events like to rent our Bull Riding Experience rental in Miami to help with team-building efforts. However, we have been at community events, backyard parties, and more. If you are having a party and looking for something unique for entertainment, a Bull Riding Experience rental in Miami is just the thing.
Bull Riding Experience Party Rental
Bull Riding Experience party rentals can be a great addition to any event. If you're looking for Bull Riding Experience Party Rentals, we've got you covered. Call today! Let's get it booked for your next party. We deliver all rentals to the parties. Everything will arrive cleaned and sanitized, and ready to go before your first guest arrives. Call now! While we love our Bull Riding Experience, we offer a wide selection of party rentals to choose from. You can get bounce house rentals, water slide rentals, and table and chair rentals. We have party rentals for those looking to throw a huge community event to those with smaller events. Our party rentals have graced the backyards of many Miami residents. Call today and let's get your party on our books.