Mechanical Bull
Watch Video Inside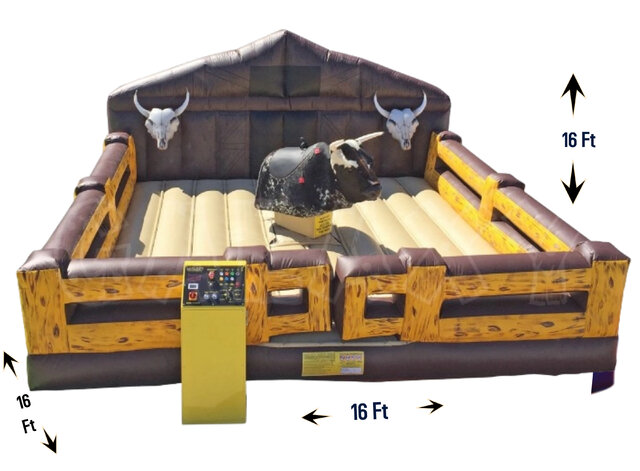 Please call to reserve this item.

Monitors: We Rent Fun provides a staff member with this attraction
Description
Mechanical Bull Rental Miami
Mechanical Bull Rental offers your guests a unique experience. Not many people have had the chance to ride a Bull, which is exactly what we rent out. Our Bull Riding Experience rental in Miami does come with some restrictions to keep everyone safe.
There is a max of 1 rider at a time.
Min. weight is 40lbs and max is 250lbs per rider. We hold the discretion on this, as we don't want anyone injured.
please note the rider has to be at least 48 inches tall to ride.
Requires 2 power outlets on separate circuits.
If power is NOT available, please let us know so Generators for power can be added to your invoice.
Mechanical Bull Rental in Miami, FL: Ride the Fun with We Rent Fun
When it comes to hosting a thrilling event in Miami, FL, nothing screams excitement more than a mechanical bull ride. Whether it's an adult party, children's birthday bash, or a corporate event, We Rent Fun offers premium mechanical bull rentals, ensuring guests of all ages are entertained and engaged.
The Ultimate Attraction in Miami Party Rentals
Often, when people think of party rentals in the Miami area, they envision tables, tents, and chairs. However, over the past few years, mechanical bull rentals have emerged as a top choice among residents of both Miami and Broward. The reason? It's simple – they're fun! The mechanical bulls from We Rent Fun are not just any products. They are the stars of the show, turning any ordinary party into a rodeo-inspired extravaganza.
Perfect for All Ages and Events
One of the most compelling aspects of mechanical bull rentals is their versatility. These rides are suitable for both adults and children, ensuring everyone can participate. Whether it's an adult rider trying to relive their cowboy days or children getting their first taste of a rodeo bull, We Rent Fun makes it a memorable experience for all. From birthdays to corporate events, the name says it all - "We Rent Fun."
Safety First with We Rent Fun's Mechanical Bulls
Safety is a primary concern for any party host. We Rent Fun understands this and ensures each rodeo bull rental is accompanied by a safety bed – a cushioned landing for those inevitable moments when a rider is bucked off. Their bulls also adhere to strict specifications in terms of size and power requirements. Each setup rodeo bull phase comes with clear information about amps, and if your event location lacks the necessary power, We Rent Fun can even provide a generator to keep the fun going.
Beyond Mechanical Bulls: A Full Spectrum of Party Rentals
While the Miami mechanical bull is undoubtedly the star attraction, We Rent Fun offers an array of other products and items. From bounce houses, water slides, obstacle courses to inflatables, and tents, the company caters to all party needs. For those looking to cool off in South Florida's heat, water slides are a popular choice. If competition is the theme, obstacle courses are sure to drive enthusiasm. And for the traditionalists, tents and tables remain a staple for any event.
Areas of Service
Operating primarily in Miami, FL, We Rent Fun also extends its services to neighboring areas like Broward and Homestead. No matter your vicinity in South Florida, the company is just a drive away, ready to elevate your event with their top-of-the-line products.
Customer Service and Reviews
Reviews from satisfied customers are a testament to We Rent Fun's dedication to excellence. From their transparent quote process to their responsive customer service team, the company ensures all questions and concerns are addressed promptly. Their website is a one-stop place for all information about ride rentals, product details, and rental procedures.
Powering Up Your Event
Understanding the power requirements is crucial when renting a mechanical bull. Each bull comes with specific specifications to ensure smooth operations. Generally, the standard mechanical bull needs a certain number of amps, but if there's ever confusion, We Rent Fun's team is there to guide you, ensuring your event remains powered up without hitches.
In Conclusion
Whether you're a seasoned cowboy or a first-time rider, a mechanical bull from We Rent Fun is bound to be the highlight of your event. With their emphasis on safety, variety of ride rentals, and unparalleled customer service, choosing them for your Miami event is a decision you won't regret. For parties and events in Miami and surrounding areas, We Rent Fun stands out as the premier name in entertainment and party rentals. So, if a mechanical bull rental is on your mind, look no further and let the fun begin with We Rent Fun!