Ballistic Swing Ride Price Display Includes 3 hours and Attendant
Watch Video Inside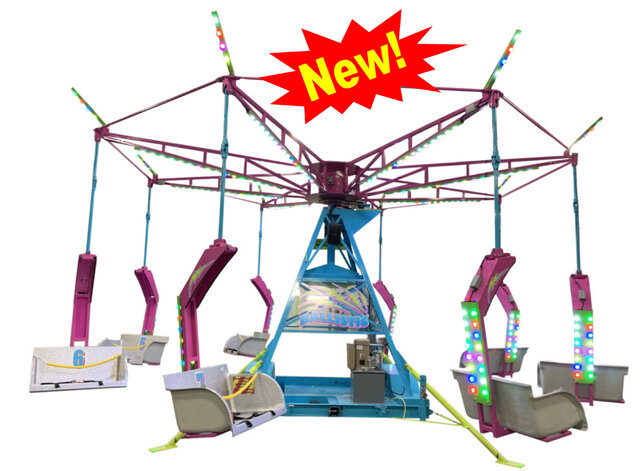 $2,499.00

Please call to reserve this item.


*Holiday Pricing May Vary
Setup Area: 40'W x 40'L x 15'H
Actual Size: 35'W X 35'L x 13'H
Monitors: We Rent Fun provides a staff member with this attraction
Age Group: 4-70
Description
BALLISTIC RIDE
Introducing the Ballistic Swing Ride from We Rent Fun in Miami, FL – the ultimate thrill-seeking adventure that promises an exhilarating experience for up to 16 adults and children alike!
Prepare to be swept off your feet, quite literally, as you step aboard this gravity-defying marvel of amusement. The Ballistic Swing Ride is an adrenaline-pumping attraction that combines the excitement of a traditional swing with a heart-pounding twist that will leave you breathless.
As you take your place in one of the 16 spacious seats, you'll be greeted by comfortable restraints that ensure both safety and comfort. The anticipation builds as you and your fellow riders are gently lifted into the air, your feet dangling freely. The moment arrives, and suddenly, you're soaring through the sky, propelled by a powerful motor that sends you spinning and swinging in every direction imaginable.
With breathtaking views of Miami's skyline and the sparkling ocean below, the Ballistic Swing Ride offers a unique perspective of the Magic City. Whether you're a thrill-seeker seeking an adrenaline rush or a family looking for a memorable day out, this ride caters to all ages and adventure levels.
The Ballistic Swing Ride is not just an attraction; it's an unforgettable experience that will create lasting memories for everyone on board. Watch as children giggle with delight, adults scream in excitement, and friends and family bond over shared moments of sheer exhilaration.
We Rent Fun takes safety seriously, and our Ballistic Swing Ride is regularly inspected and maintained to meet the highest safety standards. Our experienced staff ensures a smooth and secure ride for all passengers, so you can focus on having the time of your life.Make your event in Miami, FL, an unforgettable one with the Ballistic Swing Ride from We Rent Fun. Perfect for birthdays, corporate events, festivals, or any occasion that calls for excitement and fun, this ride will leave everyone craving for more. So, get ready to swing, soar, and scream your heart out as you embark on an adventure like no other. Book the Ballistic Swing Ride today and let the good times swing!
Our Service Includes:
Delivery, Set-Up and Tear Down
One Trained Staff Member
Fencing for the Ride