A-4 Attack From Mars (Virtual) Pinball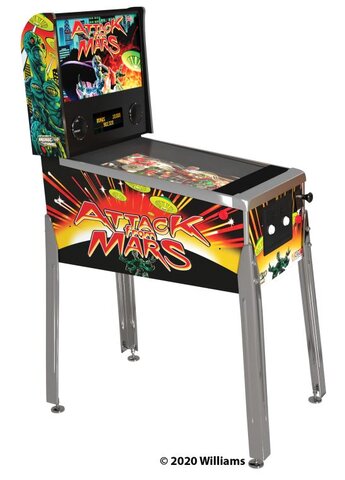 ---
---
*Holiday Pricing May Vary
GOOD: Regular Price Up To 6-Hour Rental: $296.26
Better: Overnight (Keep It till The Next Morning) $370.33
BEST: Weekend Rental (Friday To Monday) $740.65
Description
The Attack from Mars Digital Pinball is here!
Featuring a vibrant 23.8" LCD playfield, haptic touch flippers with feedback, real feel tilt and nudge, a working plunger, light up back glass, dual speakers and much more. It truly is the most satisfying digital pinball experience yet.
Wanna change up the game? That's the beauty of digital pinball. Switch anytime from Attack from Mars™ to Fish Tales™, The Getaway: Highspeed II™, Junk Yard™, Medieval Madness™, White Water™, Red & Ted's Road Show™, Hurricane™, Tales of the Arabian Nights™, and No Good Gofers™. One pinball machine, ten games, endless fun.