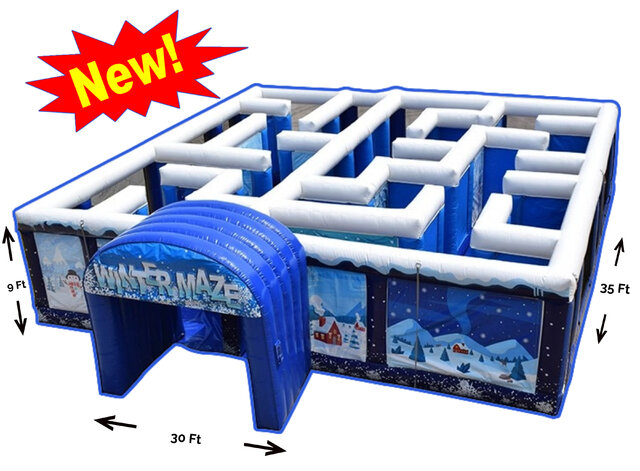 Winter Maze Rental In Miami
Setup Area: 38Ft L / 33Ft W / 12Ft H
Outlets: 2 - 120v
Age Group: All Ages




Winter Maze Rental In Miami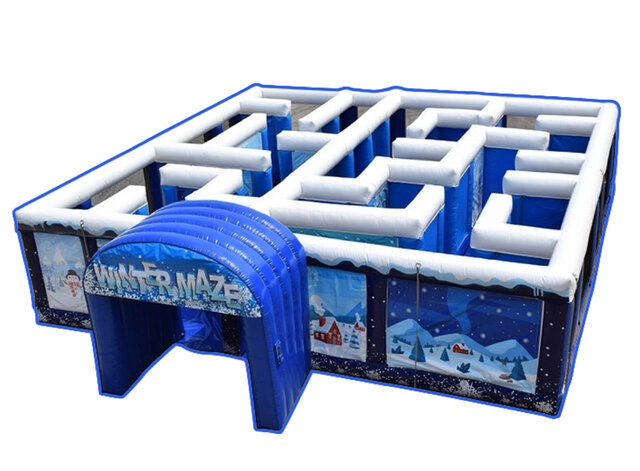 Welcome to the exciting world of We Rent Fun In Miami, your one-stop solution for unique event entertainment. Introducing our brand-new offering, the Inflatable Winter Maze rental - an absolute crowd pleaser and a guaranteed showstopper at your next event!
Our Inflatable Winter Maze brings a touch of frosty fun to sunny Miami, setting a thrilling atmosphere for kids and adults alike. Whether it's a birthday party, a corporate event, a community gathering, or a school festival, our Winter Maze is sure to delight your guests. Immerse yourself in this mesmerizing labyrinth, designed to mimic a snowy wonderland complete with intricate ice-blue pathways and festive accents.
Despite its frosty aesthetic, the Inflatable Winter Maze is 100% Miami weather-friendly, crafted from high-quality, durable materials that can withstand the Florida heat. The maze is fully inflatable, ensuring safety and a soft landing for all your frolicking guests.
Easy to install, fun to explore, and hard to forget, the Inflatable Winter Maze adds a whimsical twist to any gathering. With our dedicated team handling the set-up and takedown, you can focus on the fun part - creating unforgettable memories!
Discover the enchanting allure of our Inflatable Winter Maze and add a dash of cool to your next Miami event. With We Rent Fun in Miami, make every occasion a frosty, fun-filled adventure that your guests will talk about for years to come!
Here are compelling reasons why you should choose We Rent Fun In Miami for your event rentals:
Unique Selection: We offer a unique array of event entertainment, like our Inflatable Winter Maze, that you can't find anywhere else in Miami.

High Quality: All our rentals are of the highest quality, ensuring that they not only look fantastic but also stand up to the demands of any event.

Safety Assured: Your safety is our priority. Our inflatables are built with durable materials and designed with the utmost care to ensure a safe environment for all ages.

Stress-Free Service: From delivery to set up and take down, our professional team takes care of everything, allowing you to focus on enjoying your event.

Customer Satisfaction: Our team is dedicated to making your event unforgettable. We have a reputation for exceptional customer service and we will go above and beyond to meet your needs.

Competitive Pricing: We offer top-notch entertainment options at competitive rates, ensuring that you get the best value for your money.

Adaptable to Any Event: Whether it's a birthday party, corporate event, community gathering, or school festival, our rentals are designed to delight guests at any occasion.

Weather-Resistant Rentals: We understand Miami's weather. Our inflatables are designed to withstand the heat, ensuring the fun doesn't stop, no matter the weather.

Support Local Business: When you rent from We Rent Fun In Miami, you're supporting a local business that is invested in our community.

Experience: With years of experience in the industry, we have the knowledge and expertise to help make your event a resounding success.
Choose We Rent Fun In Miami for your next event and experience the difference for yourself!