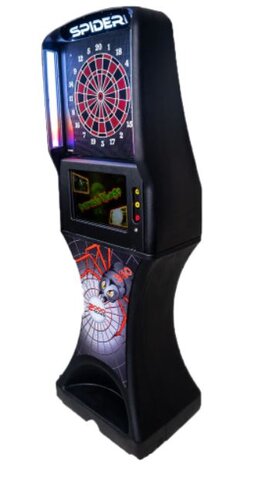 SPIDER 2000 SERIES DART BOARD
Outlets: 1 - 120v
Attendants: Full adult supervision





$497.00

Delivery Included

Please email info@WeRentFun.Net to reserve this item.

The Leaderboard™ is an online global ranking system based on your individual skill level by tracking your Marks Per Round (MPR) or Points Per Dart (PPD). You can test your skills and get ranked by seeing your name or nickname displayed on all Spider Series dart games.
Test your skills by playing the built-in computer known as Mark Dart™. Mark has the ability to adjust to your style of play or teach you to be a better dart player by watching how he plays the game. You can also play up to 3 players and have Mark be the fourth. (Mark is included with your purchase of an S2000.) Spider 360 will have you ready in no time to go out and take on the challenges of real leagues and tournaments set up by your local Operators.