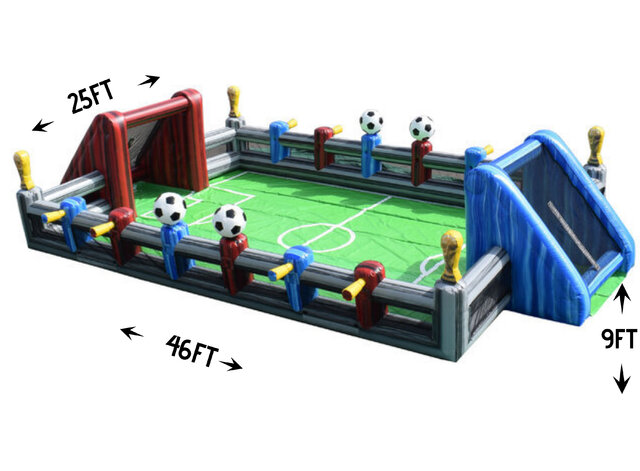 R40 Human Foosball Sports
Setup Area: 49' x 28' W x 12' H




Make your party or event a memorable experience with our inflatable Foosball!
Prepare to play a traditional game of foosball football.. With a twist! Combine the fun of real life with soccer and foosball while you play our Human Foosball Game 5 a side! Replace the table with a big inflatable court and the small players with real ones! Players will wear harnesses tied to horizontal elastic bands on the court, allowing them to move back and forth just like the mini players on the original game! This inflatable is sure to entertain everybody and make everybody laugh and want to compete!
We understand that planning and organizing a party can be a challenge, so our teams are doing their best to make their time with you as easy and stress-free as possible! All inflatable games are set up in your preferred location, secured, disinfected, and inspected. You will receive personalized operator attendant training with a team member, leaving you well educated and ready for a safe day of fun.
We require an entrance to your space of at least 5 feet in width and a clear path leading up to your setup area which should be clean and free of debris.