Mobile Escape Room (Price Include 3 Hours Of Service)
Watch Video Inside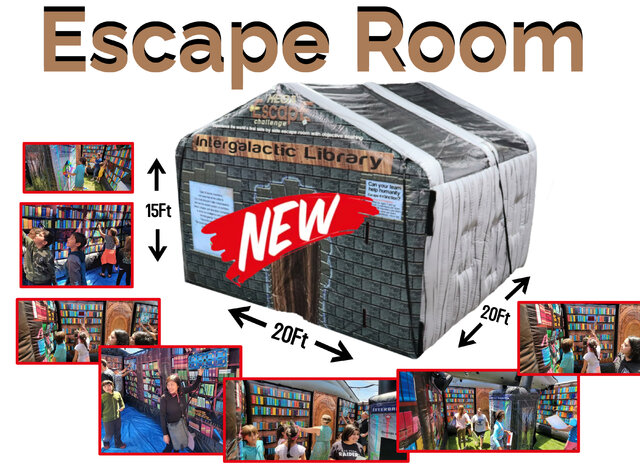 *Holiday Pricing May Vary
Display Price Is For 3 Hours : $799.00
Each Additional Hours Is $250
Additional hours are based on availability
Setup Area: 23' L / 23' W / 18' H
Outlets: 1- 120v
Description
Ÿš€ Welcome to the "Intergalactic Library MEGA Escape Challenge"
Where adventure, mystery, and teamwork collide in an out-of-this-world experience! 🌌
Embark on an interstellar journey with "We Rent Fun In Miami's" latest portable escape room, designed to cater to groups of 4 to 15 eager space explorers. The "Intergalactic Library MEGA Escape Challenge" promises a cosmic blend of excitement, strategy, and brain-teasing puzzles that will transport your team to the far reaches of the galaxy.
⏱️ Adjustable Games: Immerse yourself in an epic race against time as our escape challenge offers adjustable game durations, ranging from a quick 15-minute escape sprint to an immersive hour-long odyssey. Whether you're a novice space adventurer or a seasoned escape room enthusiast, the challenge is tailored to suit your preferred level of intensity.
🌐 Portable: Take the fun anywhere you go! Our portable escape room allows you to transform any space into an intergalactic adventure hub. Perfect for corporate events, team-building exercises, birthday parties, or any gathering that craves a cosmic touch.
🔐 9 Lockable Compartments: Unravel the mysteries of the cosmic library by unlocking nine strategically placed compartments. Each lock holds a crucial piece of the puzzle, and collaboration is key to unlocking the secrets of the universe.
🕵️ 20 Hidden Pockets: Sharpen your detective skills as you explore the vastness of the intergalactic library. With 20 hidden pockets scattered throughout the room, you never know where a clue may be hiding. Keep your wits about you, and discover the keys to unraveling the space-time conundrum.
🚀 6-Foot Tall Lockable Human Vault: Face the ultimate challenge as your team encounters the towering 6-foot tall lockable human vault. Crack the code, decipher the clues, and unlock the vault to reveal the secrets that lie within. Success brings triumph; failure may leave you lost in the cosmic labyrinth forever.
Prepare for an unforgettable adventure where cosmic mysteries and teamwork collide. "We Rent Fun In Miami's" "Intergalactic Library MEGA Escape Challenge" awaits – are you ready to escape to the stars? Book your journey now and become the masters of the cosmic puzzle! 🌠Œ