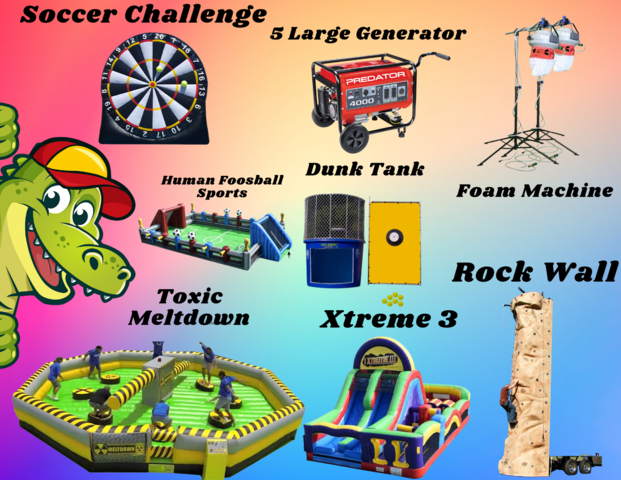 Extreme Package
Giant Soccer Challenge
Goooooooaaaal!!! Give this a KICK!!!!! This interactive inflatable Soccer Challenge is the perfect inflatable for your party. Grab a friend and test your kicking abilities, this Soccer Game is more suited toward older kids and adults.
5 Full gassed Generators

Foam Machine (1 Machine)
Take your party Up a Notch with our FOAM PARTY MACHINE RENTAL IN MIAMI! Enjoy tons of bubbles, foam, and Florida snow.
A perfect add-on to any water day event.
You may be thinking that foam is soap and water so you're going to get cold and wet. Well, not with our foam machine. The solution in our foam machine is 90% air, made with non-toxic, biodegradable ingredients, and is environmentally friendly, allergy-free, and environmentally friendly.

Make your party or event a memorable experience with our inflatable Foosball!
Prepare to play a traditional game of foosball football.. With a twist! Combine the fun of real life with soccer and foosball while you play our Human Foosball Game 5 a side! Replace the table with a big inflatable court and the small players with real ones! Players will wear harnesses tied to horizontal elastic bands on the court, allowing them to move back and forth just like the mini players on the original game! This inflatable is sure to entertain everybody and make everybody laugh and want to compete!
We understand that planning and organizing a party can be a challenge, so our teams are doing their best to make their time with you as easy and stress-free as possible! All inflatable games are set up in your preferred location, secured, disinfected, and inspected. You will receive personalized operator attendant training with a team member, leaving you well educated and ready for a safe day of fun.
We require an entrance to your space of at least 5 feet in width and a clear path leading up to your setup area which should be clean and free of debris.
Dunk Tank

The most entertaining unit is a Dunk Tank, it will have your guests laughing all night long! Dunk your friend or just about anybody you like. Our dunk tanks are always a hit on hot summer days. Everybody gets pumped to go in. Dunk tanks come with 3 balls and a target where you have to throw the ball at a target to dunk the person into the water. Our dunk tanks have a large clear viewing window to see the person once they dunked in the water. This is a great family or event activity for everyone to enjoy while participating or just watching!
Our Dunk tanks are clean and sanitized (Guaranteed).
Big a clear viewing window in the front.
Easy to empty with a valve in the back
Takes about 30-55 minutes to fill.
Big commercial grade.
Comes with 3 Balls.
Remember, you need to provide the water.
We need 5' to 6' clearance to access the backyard.
Toxic Meltdown Rental In Miami (2 Hours)
Toxic Meltdown is the hottest Rental in Miami. Up to 8 players can challenge their skills on the Inflatable Meltdown Rental. Each player has to jump, duck, and dodge the mechanical stick. If you get hit or touch this, you're out!! This same game has been on numerous TV shows and more. We Rent Fun loves to add this on for Company Parties or Picnics. School Events have kids and teenagers jump and dodge the log while staying in the game for over 10 minutes!! Be sure when planning your Church Festival or Carnival in Miami and surrounding areas to call early since we are the only one around who offers this Extreme Rental. There are Middle Schools, High Schools, and even Colleges trying to compete to be the champion and get the trophy!!

Please note: We Rent Fun will provide an attendant with each "Toxic Meltdown" rental who will be in control of the game.
Your peace of mind is ensured knowing We Rent Fun is fully licensed and insured.


Newest and most Xtreme dual lane obstacle challenge.

This inflatable, which has superseded all other inflatable courses and is our No. 1 in inflatable obstacle course. starts with 2 participants going through the tubes, then off through the pop-ups, through 2 log jams. Just when you think you're done... you make the turn and go another 15 feet by climbing up and over and slide to the finish. This obstacle is 60FT. XXXtreme of pure fun!!

Very wacky and loads of fun, the Mega 60 FT XXXtreme Obstacle will fit into any function, and for all ages, from Family Fun days to Corporate Team Building Events.

Rock Climbing Wall Rental Miami
Mobile Rock Wall features an auto-belay system, the safest for any event. Holds up to 2 riders. Minimum weight per rider 40 lbs. Maximum weight per rider 250 lbs.

Riders can race to the top. Our price includes 2 hours of Rock wall fun and 1 trained Attendant that will stay with the Rock Wall at all times and help your guest get into the climbing gear.

With museum-quality dinosaur fossils, features molded from real rock and hand-painted to perfection

Need Our Portable Rock Climbing Wall for more than 2 hours? Not a problem, each additional hour is 199. Includes 1 Attendant.
Price: $749 for 2 hours $199 for each additional hour