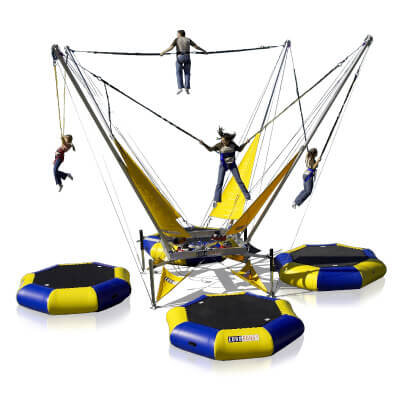 4 Station Bungee Jumps (Pricing Base On 2 Hours)




$1,317.00

Please email info@WeRentFun.Net to reserve this item.

Miami's Euro Bungee Trampoline Rental
What is a Euro bungee rental? Well, it is a contraption that offers four participants to jump on a trampoline and do flips with bungee cords strapped to you on both sides. This makes this trampoline slightly safer and allows the participants to have their very own trampoline. Because of this you can bounce high into the air and do flips with ease. It is super fun for those that like doing flips, but it is also great for a good dose of exercise as well! We Rent Fun is happy to offer the South Florida area the latest in Euro Bungee trampolines. It has 4 stations and you can do front flips, back flips, jump as high as you can! This Party Rental item is perfect for any guest that craves the excitement of Bungee Jumping, combined with doing backflips on a trampoline! This Interactive Attraction is perfect for School Events, Company Picnics, Corporate Events, After Proms and Graduations. This bungee will get your adrenaline pumping. Participants of all ages love to try this attraction.
$275 Each Add'l Hr